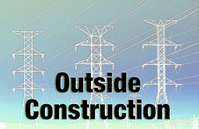 We have dispatched just over 500 calls for the month of August which is an increase of almost 100 calls from the prior month.
We are seeing more and more calls and are told to expect more over the next month.  This can become an issue since we have very few Linemen on our books and have been running open calls the last few weeks in August.  This shortage of linemen is due to the demand across the country and Hurricane Irene.  A large number of travelers who came to California to work recently were from the east coast and Irene gave them the opportunity to work close to home.
Various substation projects should be kicking off real soon and we anticipate the Journeyman Wiremen on our Lineman out of class books will be able to fill some of those calls that make it to them.
A couple of transmission projects are underway and will also need manpower to complete them.  We continue to try to get the word out that this work is here and available but it appears that the shortage in Journeyman Linemen we have heard about was on its way may be here.
Work has also started on the SWIP project in eastern Nevada with approximately 50 workers employed by Sturgeon on the line construction side working outside of Ely.  All of these workers are being dispatched out of Local 396, Las Vegas NV. A Book 1 member of  Local 1245 is considered Book 1 for this project only out of 396.
Wilson Construction has also started work on the 30 Mile substation which is located approximately 15 miles west of Ely.  This substation project will be dispatched out of LU 1245 and some portability to that project as well as a couple calls were made for it last month.  This project is under project specific agreement with some concessions made for it to make sure it went union.  One of those is that it will be paid at the Local Union 396 wage rate.  With all the open calls, location of this project and lodging concerns expressed previously on that project we anticipate having problems with manpower.  Hotels and places to hook up a travel trailer are limited.
We have added temporary help in the dispatch office to handle the increase in traffic and dispatches.  Even with the shortage of linemen we are still experiencing heavy traffic in and out of the dispatch from other classifications.  The dispatch office continues to remind everyone that if they need to contact the dispatch office for any reason to please do so outside of the normal dispatch hours of 9 am to noon.
Safety continues to be a top concern as well and it is up to everyone to look out for each other and make sure no one gets hurt.
AMI projects are still going on both PGE and SMUD properties.  Trying to figure out how these projects and manpower needs will play out seems to change weekly due to locations which are under scrutiny from protesters.
There will always be some sort of contractual issues but we have been fairly aggressive in getting things resolved early on.
Dispatch
AUGUST REFERRALS:
Lineman – 304
Apprentice Lineman – 25
Equipment Man – 25
Groundman – 99
Fabricator Tech – 39
Cable Splicer – 0
Other – 8
Total – 500
The Books as of 9/2/11
L-1: 6
L-2: 15
L-3: 0
L-4: 122
G-1: 4
G-2: 2
ES-1: 0
ES-2: 5
ES-3 4
CS-1: 0
CS-2: 0
CS-3: 3
Scott Hudelson continues to work from the field performing crew visits throughout the jurisdiction. We are trying to establish shop stewards at all work locations but this becomes a chore with the constant turnover at some work locations.
PG&E Solar Project
The three solar projects started in March are 99% complete and wrapping up.  PG&E has awarded the next three sites and they are expected to begin in the first week of October.  One site was awarded to Cupertino Electric and the other two sites were awarded to a company called Q-Cell, which has subcontracted the work out to Preferred Power Solutions.
Work Jurisdiction
This continues to be an issue almost every day with the other trades constantly challenging our contractors over work and projects.  This is something we must deal with and continue to fight for to secure this work for our members.
Organizing
Organizing in Outside Line continues to accelerate at an amazing pace.  The Construction department meets or talks with new contractors almost daily who hope to capture some of this work. We've signed the following contractors in the month of August 2011 and organized dozens of new members:
Preferred Power Solutions Inc, based in Bakersfield, signed the OSL agreement
McDaniel Technical Services, based in Oklahoma, signed the Gas Inspector agreement
W. Bradley Electric, based in Redwood City, signed the Traffic Signal & Street Light agreement
Power Nex Construction, based in Long Beach, signed the OSL agreement
We talked with the following contractors:
Corix
Alco Metal & Supply
JATC
We currently have 234 outside line apprentices registered in our JATC program and 32 traveling apprentices working in our jurisdiction.
73 apprentices are working out of Local 1245.
172 are working out of Local 47.
5 – working out of Local 396.
16 are off of work (5 are on disability, 1 is on leave of absence and the others are off due to disciplinary reasons or for personal time off).
We have graduated 33 apprentices this year to journeyman lineman.
We have indentured 32 outside line apprentices this year.
We have 12 traffic signal maintenance apprentices registered.
3 are working for Republic Electric in Local 1245's jurisdiction.
8 are working for Republic Electric in Local 47's jurisdiction.
1 is unemployed.
10 traffic signal apprentices have graduated this year.
Grievances
We have had several oral grievances and a few written grievances in the last month over wrongful terminations.
By far the largest issue has been over pay which all but 2 have been resolved at the beginning stages.
We have one of these that has progressed to step 3 which involves thousands in penalty pay and was caused by the employer's inability to secure payroll.  All affected employees have been paid wages but not until they racked up weeks of penalty pay trying to secure funds to make payroll for several members.
The other issue involves unpaid meals and not paying the proper wage rate for a specified classification.
There are also issues that may result in filing a grievance regarding employers wanting to short haul groundman by use of ling line method.  There are several issues we feel are a violation of not only the current collective bargaining agreement but also the current grievance resolution that allowed for this work to be performed in the first place.
2011 Training Schedule
The fourth and last OSHA 10 ET&D training class for 2011 will be held at the union hall from 6pm-10pm on Fridays and 8am-4:30pm on Saturdays, Oct. 7-8.
Shop Steward Grievance Training – December 10, 2011 –Vacaville, This training will be limited to 40 members.
First Aid & CPR is the 2nd Saturday of every month at our Riverside and Sacramento facility.
Upcoming Events
International Rodeo Oct. 15, 2011.  Apprentice Linemen who will participate in this event have been selected and arrangements are being made for this event.
1st Annual Clay Shoot — November 12th, Dunnigan, CA.
Injured Workers Fund
The balance as of August 31, 2011 was $327,654.89.
This fund is rather expensive to maintain; however, due to several grievance settlements we have been able to keep this fund sound at this time.  Grievances that were resolved added approximately $234,892 to the balance.