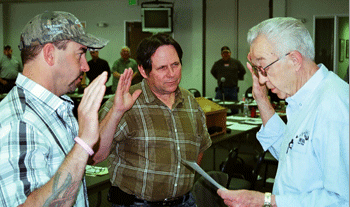 IBEW Local 1245 President Mike Davis, on the right, administered the oath to two new members of the Advisory Council on April 30.
Ken Amaral, in the middle, will now represent the old Drum Division of PG&E, Plumas Sierra REC, and City of Roseville. Amaral is a 32-year IBEW member and Senior Hydro Clerk in Auburn.
Now representing PG&E General Construction is Casey Barker, on the left, who is a lineman and 20-year member of IBEW.