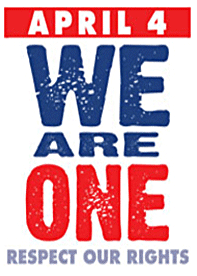 IBEW Local 1245 has activated its Solidarity Action Network to boost turnout at "We Are One" rallies in 14 cities around California.
The rallies, scheduled for April 4, are a coordinated response to the attacks on workers' rights in California and Nevada, as well as the highly-publicized attacks on workers' rights in Wisconsin, Ohio, Indiana and elsewhere across the United States.
Local 1245 has produced new solidarity t-shirts for the first 300 members to sign up to attend an event in their area.
Local 1245 members have already stepped forward to make sure that our union will be represented at rallies in 14 different locations: Oakland, Redwood City, Sacramento, Salinas, San Francisco, Santa Cruz, Stockton, Modesto, San Jose, Merced, Fresno, Bakersfield, Eureka, and a march on the Alfred Zampa Memorial Bridge co-sponsored by the Contra Costa and the Napa/Solano Labor Councils.
Times, locations, and contact information for all of the events can be found on our home page.
So join in the fun! Make a statement! Make a sign that express how you feel! Bring a friend or relative!
See the "Rally Locations" link on the home page to find the IBEW contact person in your area. Be sure to give them a call and reserve your t-shirt!.