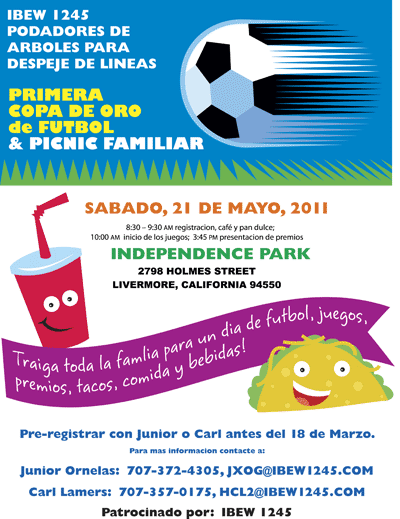 Martinez Utility Services, a Local 1245 tree trimming contractor, has signed up as a $500 sponsor of the Local 1245 Gold Cup Soccer Tournament and Family Picnic.
Benesys, the administrator of Local 1245's Line Clearance Tree Trimmer Pension Plan, has also signed up to be a $500 sponsor.
Local 1245 thanks these sponsors for their support for this first-ever soccer tournament hosted by our union.
The tournament has filled up with eight teams registered to participate.
Other businesses wishing to become sponsors of the tournament should contact Senior Assistant Business Manager Ron Cochran at rlc1@ibew1245.com.
See you all in Livermore on May 21!