WHAT CHANGE LOOKS LIKE
LOCAL 1245 LEADERSHIP TRAINING
"One way you inspire others is explaining to them why you're inspired. There's no better way of communicating passion and commitment than your own story."
Former Labor Secretary Robert Reich
Twenty young Local 1245 members gathered at Berkeley City College Annex on Jan. 24 to engage in one of the union's most pressing priorities: building leadership for the future.
They came from PG&E and NV Energy, from Sacramento Regional Transit and Modesto and Turlock Irrigation Districts, many in their 30s, some in their 20s, all of them serious about the challenges facing the union.
Leadership training is absolutely essential, said Business Manager Tom Dalzell, "to cultivate the next generation of Local 1245 and build our union as we confront one of the most challenging economic times in our history."
Many of the participants have already stepped up to take more responsibility by participating in bargaining committees, supporting labor allies in the 2010 general election, and laying the groundwork for Local 1245's Facebook page, which rocketed onto the Facebook scene in late February.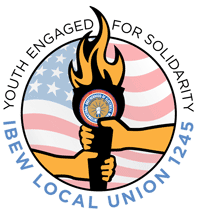 Many of them traveled last summer with Local 1245 Organizer Elizabeth McInnis to Washington DC for the AFL-CIO's groundbreaking "Next Up!" Conference, and then came home to organize their own Youth Engaged in Solidarity (YES) conference last September in Vacaville.
Like the young people who are now roiling the political waters in the Middle East, Local 1245's young organizers understand that true leadership isn't about giving orders and having people obey them. True leadership requires the imagination to see a better way and the courage to reach out to others and help them see it, too. Martin Luther King Jr. had no power to command, but he had a dream and inspired millions to action. He was just 34 years old when he gave his famous speech.
Personal Stories
You don't have to be Martin Luther King to inspire people to share your vision of the future and move forward with you. Change doesn't begin with an historic leader; it begins with each of us.
"One way you inspire others is explaining to them why you're inspired," said Robert Reich, the former U.S. Secretary of Labor who joined the Local 1245 members in Berkeley to talk about change and how it is made. "There's no better way of communicating passion and commitment than your own story."
Reich is a widely-read blogger about economics, justice, power and change. He is also Chancellor's Professor of Public Policy at U.C. Berkeley, and an occasional economics advisor to President Obama. ("I don't think he listens to me," Reich ruefully admits.)
Reich shared some of his own sources of inspiration with the Local 1245 members. They include his childhood friend Michael Schwerner, the civil rights activist murdered by the Ku Klux Klan in Mississippi in 1963. And they include a student he mentored and befriended at Harvard who went on to win election to Congress. Her name is Gabby Gifford.
Important as personal stories are, it takes more than that to move people to action, Reich said.
"You inspire others because you give them a view of the big picture. You allow them to see why this is important not just to you, but why it's important for the future, for America."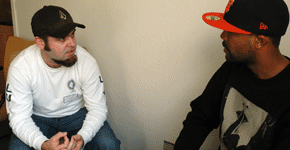 Sources of Inspiration
Reich's view of the big picture contained some sobering numbers about the growing power of the rich—and the economic decline of just about everyone else. (See related story, "Stinking Rich"). But the Leadership Training was about more than just listening to Robert Reich.
Leadership is about finding ways for everyone to become involved. Each person at the training shared stories about the people who had inspired them growing up.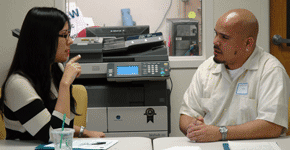 For Ryan Morris it was his father, a small business owner who worked 12-hour days but always found time to attend Ryan's sports activities. For Lloyd Cargo it was his grandfather, who taught him how to focus. For Trach Thanh it was his father, an immigrant from Vietnam who started at minimum wage but ended up putting three kids through college.
Sarah Stevenson credited her grandmother from Louisiana, who "turned all lemons into lemonade."  Veronica Rivera said her immigrant parents "taught me if you fall down, get up and fight harder."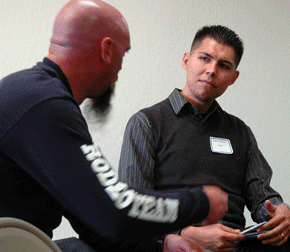 Peter Guimond said his pastor "taught me everything: honesty, integrity, accountability, trying hard."
Tim Crisman's grandfather passed down his work ethic. Denise Miller's parents "taught me to fight for what I believe in." Eddie Moreno's immigrant father worked in the fields and "fought for what was right."
Strategy for Survival
Leadership training isn't just a passing phase for the union, said Dalzell. It is a strategy for making sure the union survives to continue its mission to protect the rights of workers.
Dalzell praised young members who had already stepped forward to take leadership roles, like Aaron Baker, 31, who recently became the unit chair for the union at Turlock Irrigation District. Dalzell also acknowledged the young members who played inspirational roles in mobilizing for Clerical negotiations at PG&E last year, and the recent contract show-down in Nevada with NV Energy.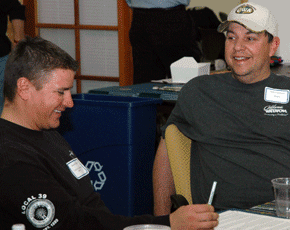 "This is what we're finding out," said Dalzell. "If you give people a chance to lead, they are going to rise to the occasion."
Although the focus is on youth, new leaders can arise from any age group. The PG&E Clerical campaign gave rise to over a hundred worksite volunteers—some not as young as others. The NV Energy battle has supercharged a group of retirees who last saw age 60 or 70 disappearing in the rearview mirror. The effort to build leadership includes not just young unit leaders like Aaron Baker, but "old lions" like Rich Lane, 56, who helped organize the Turlock unit in the first place and recruited Baker to take his place as unit chair.
"Energize and Empower"
Anthony Brown, a PG&E Gas Service Rep in Oakland, falls somewhere in the middle. He turned 40 the day before the Leadership Training. What's needed, he said, is to bring younger members on board, "energize them and empower them with leadership skills they can build on to lead the union into the future."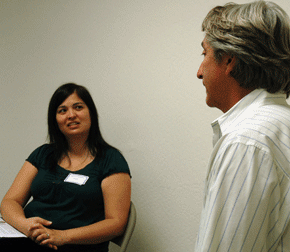 You don't have to be Martin Luther King Jr. to make change. You don't have to have an enemy as nasty as Libya's Muammar Gaddafi to make change. What you have to have is a willingness to sit down with another human being and talk about what's real.
And that's what happened next at the Local 1245 Leadership Training. The participants broke into groups of two for the simplest of tasks.
"We wanted to practice holding conversations," said Local 1245 Organizer Eileen Purcell, who helped design the day's program. "People continued the discussion we had been having about workplace issues, the economic advantage that unions provide, and also some of the myths you hear about unions."
Unlike role-playing, which sometimes feels like "performing" in front of an audience, these informal conversations resemble the sort of one-on-one encounters that you find in almost every workplace every day.
Basic Tools
"Our goal is to give people some basic tools they can take right onto the job," said Fred Ross, Jr., a veteran organizer who has energized the union's organizing efforts since joining the Local 1245 staff in 2009. "Organizing isn't some mysterious thing that can only be done by experts. It's just people talking to each other about what they need and how to go about getting it."
Ross handed out bi-lingual copies of "Axioms for Organizers," a short publication written by his father, the noted labor organizer Fred Ross Sr., who in the 1960s helped mentor a young organizer named Cesar Chavez.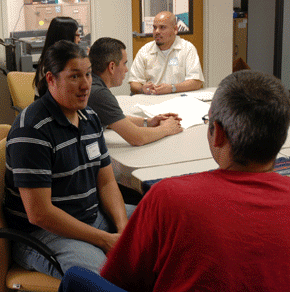 You can tell in a second that the axioms aren't written for philosophy professors. They are nuggets of practical advice to workers who want to motivate other workers to make change happen. Some samples:
"The duty of the organizer is to provide people an opportunity to work for what they believe in."
"To inspire hope you have to have hope yourself."
And, "Don't tell the people. Ask them."
Creating real change is always a tall mountain. But the climb doesn't seem nearly so steep after you've taken the first step. Union members of all ages understand it's time for Local 1245 to get serious about the journey.
The union is scheduling additional leadership trainings at various locations over the next several months. Contact a Local 1245 organizer if you'd like to play a role in building the union of the future.
Fred Ross: fgr1@ibew1245.com
Eileen Purcell: emp3@ibew1245.com

Leadership Training Conference participants, Berkeley, CA, Jan. 24, 2011. Photos by Eric Wolfe
Leadership Training Roster
Jammi Angeles
Lorenso Arciniega
Aaron Baker
Anthony Brown
Lloyd Cargo
David Carter
Tim Crisman
Michael Gomes
Jennifer Gray
Peter Guimond
Francesca Kenney
Denise  Miller
Edgar Moreno
Ryan Morris
Graciela Nunez
Pat Patterson
Tim Ramirez
Veronica Rivera
Jeff Simmons
Sara Stevenson
Trach Thanh
Guests:
Richard & Jackie Lane
Michael Farmer
Robert Reich
Staff:
Tom Dalzell
Dorothy Fortier
Sheila Lawton
Fred Ross
Eileen Purcell
Eric Wolfe
Elizabeth McInnis ( assistance with planning)