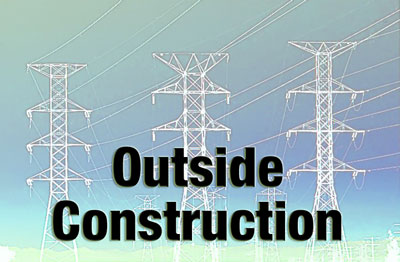 We had another record month and it looks like a 54% increase in man-hours in October 2010 over October of 2009.  2010 is shaping up to be another record man-hours-worked year overall.
Work is still going strong and we expect it to continue in the transmission area.  We think the distribution work will slow during the winter months.  We are expecting the substation work to increase after the first of the year. Although, there are several members on the out of work books, we have been running open calls in recent weeks, go figure.
The AMI, traffic signal, AC load control programs are all steady.  The pole test and treat programs have ramped down for the year. There are a few pole test crews working within the jurisdiction.
Several of the upcoming solar projects are partially funded by the California Public Utility Commission (CPUC) and other federal and state agencies.  Several of these green energy projects starting in 2011 have "local hire" requirements.
What does "local hire" mean? In this context it requires local qualified workers to be placed first.  This requires us to become more flexible in the way we do business on these projects. At first we had mixed opinions, but after understanding how many jobs these projects will generate, we have changed our opinions on this.  The best part of the Project Labor Agreement secured by Business Manager Tom Dalzell is that all these PG&E projects will be done 100% union.  This means hundreds of Groundmen positions in 2011. We have three large solar projects starting within a one-hour drive of Fresno, California, sometime in February and early March–if the project stays on schedule.  These three projects have the potential of clearing our Groundmen books.
Book Status

Linemen I: 16
Linemen II: 28
Linemen III: 1
Linemen IV: 91

Equipment Man I: 7
Equipment Man II: 5
Equipment Man III: 7

Cable Splicer I: 5
Cable Splicer II: 3
Cable Splicer III: 2

Groundman I: 11
Groundman II: 10
Groundman III: 134
Groundman IV: 157

Fabricator Technician I: 0
Fabricator Technician II: 8

Year to date referrals:

Linemen: 795

Apprentice Linemen: 113

Line Equipment Man: 115

Groundman: 269

Fabricator Technician: 121

Cable Splicer: 18
Brian Cardoza Update
Brian was released from the hospital during the Veterans Day weekend, but has since returned.  A week after his release he experience some problems with the repaired artery in his leg which also become infected.  As of today everything is under control, but he remains in the hospital and we have not been told when they think he will be released.  He had been up walking around before this setback.
Richard Dunkin Update
Former Outside Line Business Rep Richard Dunkin has been experiencing some more health issues – some carotid arterial blockage.  Doctors put in some stints, and after some unexpected complications during the procedure, Richard is now home, recuperating.  Probable additional surgeries to further clear the blockages are being planned, most likely before the end of the year.
Grievances
Along with the increase of work we have experienced several pay issues and wrongful termination disputes.
TTR Substations – 3 wrongful terminations cases and all 3 have been resolved.
Pay issues with the members not receiving their final pay as prescribed by the agreement.
Wellington Energy- Resolved with 48 hours of penalty pay issued
Par- Resolved with 8 hours of penalty pay issued
SMUD SmartMeter Start Up
Utility Partners of America has started back up with the electric Smart Meter project on SMUD property.  This is a continuation of the pilot program that took place last year.  Plans are to change out all the residential meters in SMUDs service territory and roughly 38,000 commercial meters.  Project is scheduled to last through 2011.
Training
We are in the process of setting up the training date schedules for next year.  We have some rough dates for OSHA 10, Crane certification, First Aid/CPR, Shop Steward training, and Flagger certification.  There are also off-site classes for the Bay Area Training Card "BATC" which is required for work in all the local oil refineries.
We will be working on advanced training for all the construction and trees representatives for grievance handling and investigations, through the presentation of the grievances at arbitration hearings.
We are also working on more media communication training.  We continue to look for every way to reach our members and get them involved in their union.  We are hoping each of the construction and trees representatives will have Facebook accounts where members can post comments and ask questions, and other members can benefit from these communications.
Organizing
In the month of November we signed Avila T & D, Inc., based in Fresno, CA, to a PG&E Support agreement to do electrical civil work.  We also signed CMSH Electrical to the SMUD AMI Project Labor Agreement.
We also are in talks with Bray Trucking based in Hopland, CA.  They haul dirt and other materials for PG&E gas crews.  We referred them to the Teamsters. We are looking at other companies as well.
Negotiations
We still have open negotiations with GoodCents.  The company has avoided meeting formally. We have given the company many dates that we could meet.  It's very unfortunate as we hoped they would act in good faith.
We have completed all other negotiations for 2010.  It has been a very busy year.
Apprentice Report
We currently have around 230 Cal-Nev JATC apprentices in both Line and traffic signal apprentice programs.  We really are proud we were able to send a few line apprentices to the International Linemen's Rodeo with help from our signatory contractors in October. There are more upcoming events where we hope to have Cal-Nev JATC apprentices attending; the youth conference and the shop stewards training in the spring.  We are trying to get our IBEW youth more involved in the IBEW. Safety and communication skills are critical for our everyone's future.