Davey Tree Surgery Co. is behind schedule in Humboldt County and has brought in Davey Crews from North Valley, North Bay and Redwood Regions, working seven days a week in an effort to get back on schedule.
The company made a one-time agreement to offer double-time pay on Sundays as an incentive to get volunteers to work seven days a week. The company also brought in Loggers Unlimited a non-union contractor in this effort to get back on schedule. An attempt by Local 1245 to organize Loggers Unlimited is under way.
Senior Assistant Business Manager Ron Cochran attended a special meeting in Auburn with Junior Ornelas to become acquainted with the Davey work group and to explore starting a tree trimmer unit there. A unit in Auburn would give tree trimmers–from Trees Inc. and Utility Tree, as well as Davey–to attend unit meetings focused on tree trimmer issues.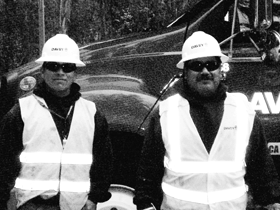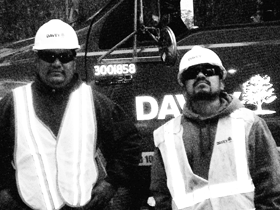 Getting ready to work in Arroyo Grande, CA for Davey Tree are, from left: CLA Daniel Fierro, FMA Julian Maldonado, CLA Saul Tello, and CLA Guadalupe Maldonado. Photos: Junior Ornelas