CEO MEG WHITMAN'S JOBS PLAN:
ELIMINATE, OUTSOURCE, DOWNSIZE
If she is elected governor in November, Meg Whitman wants to "run California like a business." So what does that mean for California's working families? Whitman has a history of layoffs, outsourcing and exorbitant executive perks as CEO and Board Member of eBay. While on the campaign trail, Whitman has pledged to continue cutting jobs while giving lavish tax breaks to her corporate millionaire friends.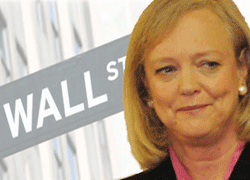 Meg Whitman:
Has a record of slashing jobs at eBay, while giving herself and other executives huge bonuses and others perks
Is a serial outsourcer, having sent 40% of eBay's jobs overseas
Says she's a "huge fan" of increasing the number of H-1B visas, which take California jobs and exploit foreign workers
Proposes mass firings of state workers, costing California 40,000 jobs
Whitman Oversaw Mass Layoffs at eBay
Whitman approved mass layoffs of 10% of eBay's workforce as a member of the board in 2008. As thousands of workers lost their jobs, the board approved million dollar severance packages for executives.
Whitman Sent eBay Jobs Overseas
Under Whitman's leadership, nearly 40% of eBay's employees were overseas. From 2002-2007, Whitman increased the number of overseas workers at eBay by 666%, rather than keeping jobs in California.
Whitman Supports Using H-1B Visas to Replace Workers in California
Whitman says she's a "huge fan" of increasing H-1B visas to foreign workers, meaning fewer jobs for California workers. H-1B workers often earn less than U.S. workers, leading to potential exploitation of those workers.
U.S. Senator Dick Durbin has introduced legislation to limit the H-1B program, because "the H-1B visa program is plagued with fraud and abuse and is now a vehicle for outsourcing that deprives qualified American workers of their jobs. Our bill will put a stop to the outsourcing of American jobs and discrimination against American workers."
Whitman Would Cut 40,000 State Jobs—10% of the Workforce
Whitman proposes to cut 10% of the state's workforce, about 40,000 state workers, supposedly without cutting public safety. Yet even Governor Schwarzenegger's office ridiculed her proposal, saying "The governor only has authority over contracts with 100,000 state employees paid through the general fund. About two-thirds of those are in Corrections. So it's unclear how you cut 30,000 positions without affecting public safety."
Even though Whitman would not have the authority to cut positions in the University of California system, she would cut UC's budget in order to force layoffs of key university personnel.
Whitman's proposal would supposedly include state workers paid through Special Funds, meaning that she would fire state workers, creating hardships for those workers and local businesses, for no savings to taxpayers or to the State.
California already has the second-lowest number of full-time state workers relative to population in the entire nation—second only to Illinois and tied with Florida.
Whitman's Job Creation Plan Has No Basis in Reality
In February 2009, Sacramento Bee columnist Dan Walters contended that Whitman's promise to create two million jobs "defies economic, demographic and political reality."