Howard Stiefer, one of the great rank and file leaders in our union's history, died in Missouri on Feb. 3 after a long illness.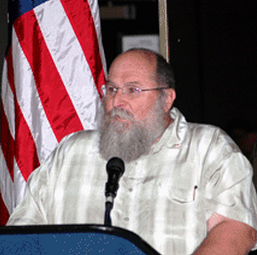 Steward, negotiator, unit chair, Advisory Council member, vice president, Stiefer served the union in any capacity he thought would be useful. In 1980 he began an unprecedented 21-year stint as union president—more than three times longer than anyone else has ever served in that position. In 2001 he was hired as Assistant Business Manager and spent the remainder of his union career trouble-shooting problems in the union's relationship with Pacific Gas and Electric—a good fit for a seasoned electric troubleman.
Business Manager Tom Dalzell described Stiefer as "a force of nature."
"He was a fierce advocate for working men and women," said Dalzell, "He was effective not only because of his devotion to union principles, but also because he was able to see areas of possible compromise with management before others even fully understood the competing positions."
Former Business Manager Jack McNally, who served alongside Stiefer during Stiefer's 21 years as president, described Stiefer as a hard worker, someone who was "down-to-earth" and would "think things through and make intelligent decisions."
Stiefer showed those qualities in whatever he did, whether he was "working as a lineman, part of a crew, as a Troubleman, or as president," said McNally. "He didn't shoot from the hip."
Stiefer was initiated into Local 1245 in November of 1967 while working in the line department of PG&E. In 1974, before he ever held any union office, Stiefer received the IBEW Life Saving Award, the highest honor given by the union.
He became a shop steward in PG&E's North Bay Division in 1975, a position he held continuously for a quarter century—even after he assumed the responsibilities of president.
During his 21 years as the union's top rank-and-file leader, Brother Stiefer's fingerprints were all over the union's extensive activities. He appointed all local union committees, all delegates to Central Labor Councils throughout the local union's jurisdiction, and all delegates to conferences and conventions. He chaired Executive Board and Advisory Council meetings throughout those years, a steady hand during a time of often-wrenching changes in the utility industry.
At the same time, Stiefer became a well-known and trusted voice for Local 1245 at all of IBEW's major gatherings—from Ninth District Progress meetings to Utility Conferences to International Conventions.
Dalzell, who served as staff attorney during Stiefer's entire presidency, described Stiefer as a "long-term thinker, a visionary who saw the value of incremental change."
"He was a proud man—proud of his work, his craft, his union," said Dalzell. "There will not be another like him."
A fuller remembrance of Brother Howard Stiefer will appear in the next issue of the Utility Reporter.