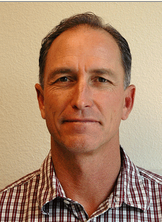 Mark Rolow, a 32-year IBEW member, has been hired by Local 1245 to represent members in PG&E General Construction and Outside Line. His service territory will be centered in the San Joaquin Valley.
Brother Rolow was initiated into the IBEW in 1977 and moved his ticket to Local 1245 in the mid-1980s. He began work for PG&E in 1996, where he has been working as a lineman in the Bakersfield area. He's been active in the union, serving as chair of the Bakersfield unit until his appointment to the staff. He was also chosen to participate in the two lineman safety summits held in 2009 to address recent injuries and fatalities among line workers.
Rolow comes from a union family: his father was a 50-year IBEW member and his grandfather worked as a lineman in Iowa.
Welcome aboard, Brother Rolow!